100-240V AC input to DC output 12.6V 1A europe wall plug charger for pool cleaners
Model:XSG1261000EU, Safety certificates: CB, CE, GS
Voltage: 12.6V, Current: 1A, power 12.6W max 
Input:
1. INPUT VOLTAGE RANGE:90Vac to 264Vac
2. RATED INPUT VOLTAGE:100Vac to 240Vac.
3. INPUT FREQUENCY RANGE:47Hz to 63Hz
For Li-ion battery:
18W Li-ion battery chargers

Model
Output Voltage/Current
Power
For Battery
XSG042yyyyEU
4.2V, 300mA - 3A
12.6W max
3.7V battery
XSG084yyyyEU
8.4V, 300mA – 2A
16.8W max
7.4V battery
XSG126yyyyEU
12.6V, 300mA – 1.5A
19W max
11.1V battery
XSG168yyyyEU
16.8V, 300mA – 1A
16.8W max
14.8V battery
XSG210yyyyEU
21V, 300mA – 850mA
18W max
18.5V battery
XSG252yyyyEU
25.2V,300mA – 700mA
18W max
22.2V battery
XSG294yyyyEU
29.4V,300mA – 600mA
18W max
25.9V battery
XSG336yyyyEU
33.6V, 300mA – 500mA
18W max
29.6V battery
LED indicator: LED turn red to Green when fully charge the battery.
Charging Status
Charging Stage
LED indicator
Charging
Constant Current
Constant Voltage
Charged Full
Trickle Charging
Drawings: L63.8* W37.7* H27.9mm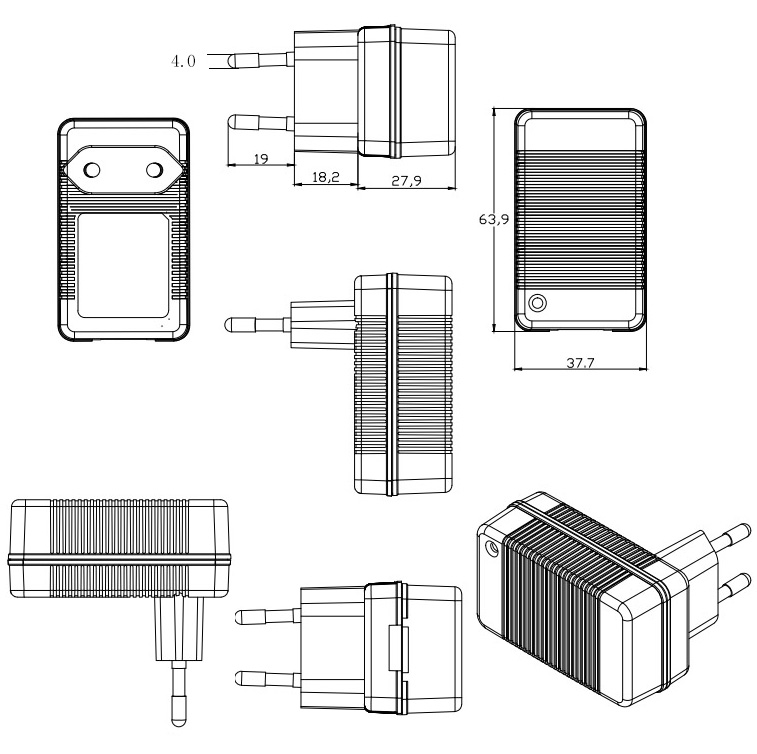 The 12.6V 1A lithium pool cleaner robot charger, designed to cater to the needs of swimming pool owners worldwide, this charger ensures an efficient and hassle-free cleaning experience.As the demand for swimming pool cleaning robots continues to rise, our company has collaborated with numerous well-known manufacturers in the industry. This strategic partnership has allowed us to develop a charger that perfectly complements their state-of-the-art robots.