AC 100-240V input  to DC 14.6V output home LiFePo4 golf electric push trolley chargers
Safety certificates: CB, UL, cUL, UKCA, PSE, KC, CE, GS, SAA, CCC, FCC, KC
14.6V4A chargers, Model: XSG1464000 14.6V 4A 58.4W power.
14.6V5A chargers, Model: XSG1465000 14.6V 5A 73W power.
Input:
1. INPUT VOLTAGE RANGE:90Vac to 264Vac
2. RATED INPUT VOLTAGE:100Vac to 240Vac.
3. INPUT FREQUENCY RANGE:47Hz to 63Hz
Protection:
Over current protection, over voltage protection, short circuit protection, polarity reverse protection
LED indicator: LED turn red to Green when fully charge the battery. 
Charging Status
Charging Stage
LED indicator
Charging
Constant Current
Constant Voltage
Charged Full
Trickle Charging
Charging mode and diagram: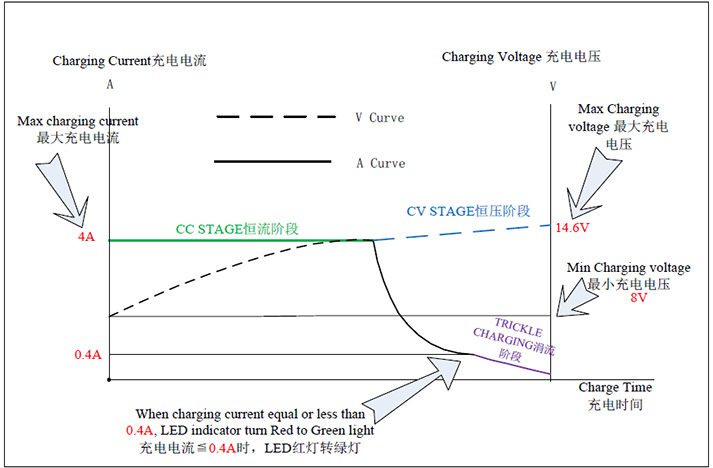 3 stage charge mode, constant current to constant voltage to trickle current
Drawings: L116* W52* H34mm