Medical 2S 7.4V li-ion battery charger, DC output 8.4V 1A, 1.5A used for medical devices. Multiple protection mechanisms such as over-current protection, over-voltage protection, short-circuit protection, anti-reverse connection protection, etc.
8.4V 1A 1.5A medical li-ion battery charger adapter
Standard: IEC 60601 , EN 60601
Safety certificates: CB, UL, cUL, FCC, PSE, CE, GS, SAA, KC, CCC, PSB, UKCA
Model:XSG0841000, Output : 8.4V 1A 8.4W
Model:XSG0841500, Output : 8.4V 1.5A 12.6W
8.4V li-ion chargers for medical devices.
Input:
1. INPUT VOLTAGE RANGE:90Vac to 264Vac
2. RATED INPUT VOLTAGE:100Vac to 240Vac.
3. INPUT FREQUENCY RANGE:47Hz to 63Hz
LED indicator: LED turn red to Green when fully charge the battery, trickle charger.
Charging Status
Charging Stage
LED indicator
Charging
Constant Current
Constant Voltage
Charged Full
Trickle Charging
Charging curve: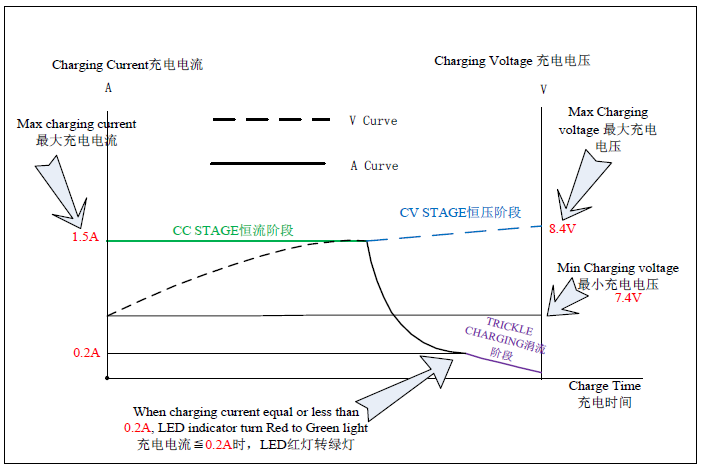 Popular medical 8.4V Battery Chargers:
8.4V 0.5A lithium battery charger XSG0840500; 8.4V 1A lithium battery charger XSG0841000
8.4V1.2A lithium battery charger XSG0841200; 8.4V 1.5A lithium batttery charger XSG0841500
Advantages compared with other electric scooter chargers
1. Full safety certifications, help the clients get the whole machine certificates easily
2. Sealed PC enclosure, fanless, much safer quieter
3. Stable quality and long warranty
4. Supporting ODM and OEM
5. Save customers time and energy, making selection more conveniently