Xinsu Global 8S 29.6V lithium battery 33.6V charger, the sealed PC enclosure, fanless. stable quality with full safety certificates CB, UL, cUL, FCC, UKCA, CE, GS, SAA, KC, CCC, safe and quiet.AC inet: IEC-320-C6, IEC-320-C8, IEC-320-C14. Small size, high efficiency, low temperature rise. The annual sales volume is as high as 5 million units, and the products are exported to the United States, Britain, France, Germany, Australia, South Korea, Japan and other countries and regions. We believe that our safe chargers will make people's lives better.
AC voltage 100-240V input to output DC 33.6V 1.5A 2A lithium battery chargers
Safety certificates: CB, PSB, PSE, CE, UKCA, UL, cUL, FCC, CCC, KC
Model:XSG3361500, Output: 33.6 volt 1.5 Amp, power 50.4W
Model:XSG336200, Output: 33.6 volt 2 Amp, power 67.2W
Protection: Short circuit protection, over voltage protection, over current protection, polarity reverse protection, current reverse protection, second voltage limit protection.
For battery type: 8S 29.6V lithium battery pack
Size: 116*52*34mm
Weight: 400g
Input:
1. INPUT VOLTAGE RANGE:90Vac to 264Vac
2. RATED INPUT VOLTAGE:100Vac to 240Vac.
3. INPUT FREQUENCY RANGE:47Hz to 63Hz
4. OPERATION TEMPERATURE: -20°C - 40°C
5. STORAGE TEMPERATURE: -30°C - 70°C
LED indicator: LED turn red to Green when fully charge the battery. intelligent 3 stage charge mode, constant current to constant voltage to trickle current
Charging Status
Charging Stage
LED indicator
Charging
Constant Current
Constant Voltage
Charged Full
Trickle Charging
Working graph: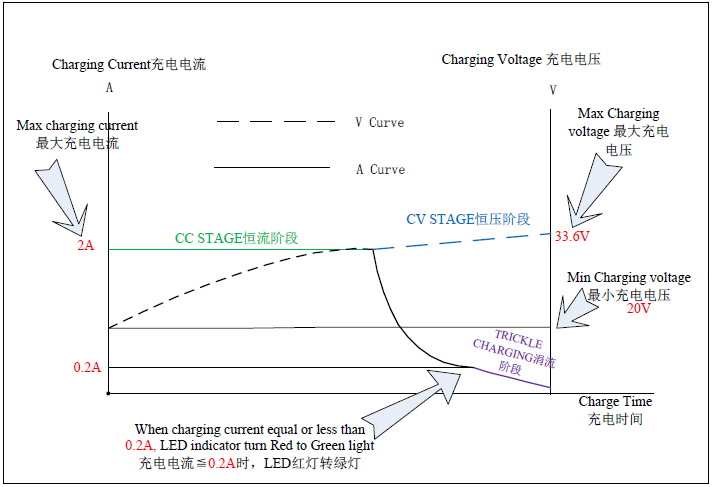 Drawings: