High quality UL TUV CE SAA PSE UKCA listed lithium battery 48V charger 54.6V 4A charger.
Model:XSG5463750, Safety certificates: CB, UL, cUL, FCC, PSE, CE, GS, SAA, KC, CCC, PSB, UKCA
Output : 54.6V4A, power 220W max
 Battery type: 13s 48V lithium ion battery
Wide AC voltage input:
1. INPUT VOLTAGE RANGE:90Vac to 264Vac
2. RATED INPUT VOLTAGE:100Vac to 240Vac.
3. INPUT FREQUENCY RANGE:47Hz to 63Hz
LED indicator: LED turn red to Green when fully charge the battery.
Charging Status
Charging Stage
LED indicator
Charging
Constant Current
Constant Voltage
Charged Full
Trickle Charging
 Charging Curve: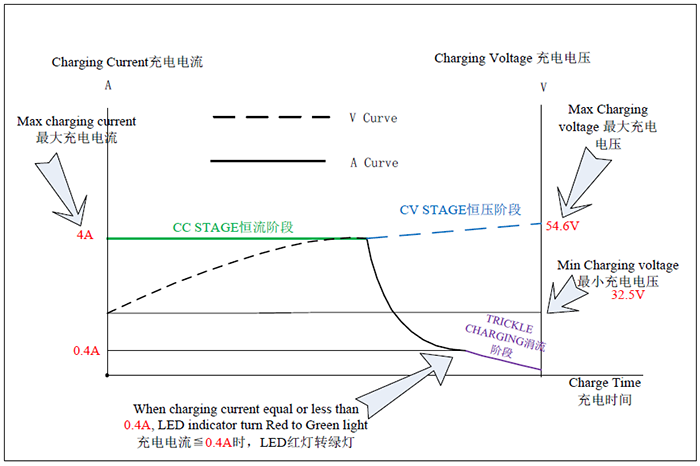 Application:
Battery chargers for electric bikes, electric outboard motors, mobility scooters, golf trolleys, wheelchairs,Electric tricycles, Electric robots
Operation:
1. Connect the DC plug with battery, should pay attention the positive and negative polarity
2. Connect the AC power, If battery is not full, the charger LED indicator will be red
3. If the battery is full, the LED indicator will be green
4. If the battery is not full, the LED indicator is green, please check whether the AC terminal and DC terminal are properly connected
Popular 54.6V Battery Chargers for 48V lithium battery pack:
54.6V 2A lithium battery charger XSG5462000; 54.6V 3A lithium battery charger XSG5463000
54.6V 3.5A lithium battery charger XSG5463500; 54.6V 4A lithium battery charger XSG5463750
54.6V 5A lithium battery charger XSG5465000; 54.6V 10A lithium battery charger XSG54610000
Advantages compared with other 54.6V chargers
1. Full safety certifications, help the clients get the whole machine certificates easily
2. Sealed PC enclosure, fanless, much safer and quieter
3. Stable quality and long warranty
4. Supporting ODM and OEM
5. Good pre-sales consultation and after-sales service, make choice more simpler and bring more value to clients.