12.6 Volt 5 Amp lithium battery DC charger for 3S 11.1V lithium battery pack.
Model:XSG1265000, Safety certificates: CB, PSE, CE, UKCA, UL, cUL, FCC, CCC, KC
AC inlet: IEC-320-C6, IEC-320-C8, IEC-320-C14
Voltage: 12.6 volt 5 Amp, power 63W
Input:
1. INPUT VOLTAGE RANGE:90Vac to 264Vac
2. RATED INPUT VOLTAGE:100Vac to 240Vac.
3. INPUT FREQUENCY RANGE:47Hz to 63Hz
4. OPERATION TEMPERATURE: -20°C - 40°C
5. STORAGE TEMPERATURE: -30°C - 70°C
LED indicator: LED turn red to Green when fully charge the battery. intelligent 3 stage charge mode, constant current to constant voltage to trickle current
Charging Status
Charging Stage
LED indicator
Charging
Constant Current
Constant Voltage
Charged Full
Trickle Charging
Charging diagram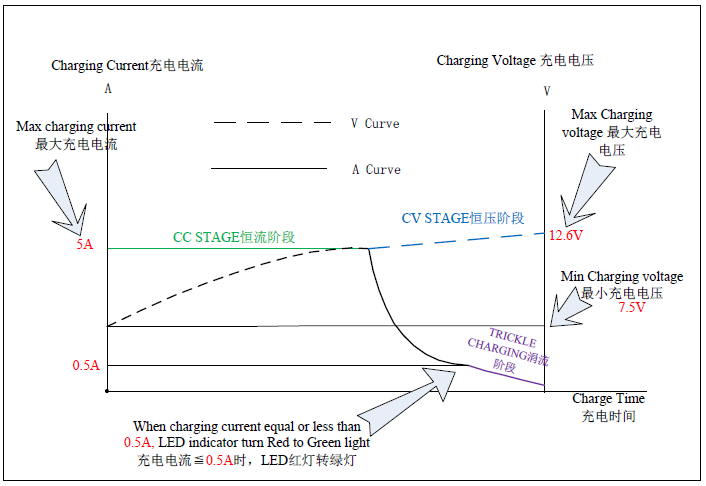 Drawings: L99* W44* H31mm