The purchase of an electric bicycle charger must match the voltage and capacity of the electric bicycle battery. Electric bicycles generally use smart chargers, which are more reliable, but the model must match the battery.
1. Choose the charger according to the battery
No matter how many varieties of electric vehicle chargers wholesale, you must choose the charger according to your own electric vehicle battery. Generally, the maximum voltage of the charger for a new 48V
Lead-acid  battery is not higher than 60V, not lower than 55V, which is too low to charge. Insufficient, too high will damage the battery, the cheap chargers on the market have low actual power, and the charger parameters are not accurate. Do not buy.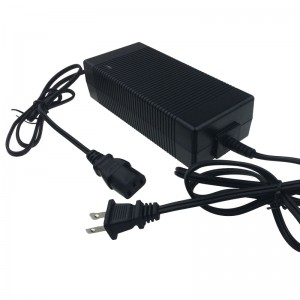 2. Choose a regular electric bicycle charger manufacturer
The regular charger manufacturer has a production license and the quality is guaranteed. Don't buy it casually. The charger is connected to the AC voltage.  Unqualified products are prone to malfunctions and short circuits. Not only will it affect the service life of the battery, it may even cause the charger to explode and cause safety hazards.
Frequent failures of electric vehicle chargers:
1. When there is no load, plug in the AC power supply, the LED light does not turn on the green light
Please check whether the AC power supply is tightly connected
2. Plug in the AC power supply, connect the battery, the LED light does not turn on red
Please confirm whether it is correctly connected to the battery
3. The LED light does not turn green when fully charged
The number of battery cycles is quickly exhausted, causing the battery self-discharge to be larger than the trickle current, and the battery cannot be fully charged
4. The charger does not work or is too noisy
Need to replace with a new charger
To choose electric vehicle chargers, please choose Xinsu Global chargers, Xinsu Global focus on the safety of charging with global safety certifications