30W 100V-240V AC DC interchangeable plugs switching power supply adapters,10 kingd interchangeable US/JP, EU, UK, AU, CN, KR, AR, BR, ZA, IN wall plugs are optional for universal markets.
Model:XSGxxxyyyy, Safety certificates: CB, UL, cUL, FCC, PSE, CE, UKCA, CCC, KC
Voltage: 3V to 48V, Current: 0.1A to 4A, power 30W max used for IT products, AV device, home appliances, test equipments and medical products.
Input:
1. INPUT VOLTAGE RANGE:90Vac to 264Vac
2. RATED INPUT VOLTAGE:100Vac to 240Vac.
3. INPUT FREQUENCY RANGE:47Hz to 63Hz
Output:
RATED OUTPUT

SPEC. LIMIT

Min. value

Max. value

Output regulation

3VDC

48VDC

Output load

0.0A

 0.1A-4A

Ripple and Noise

-

<150mVp-p

Output Overshoot

-

±10%

Line regulation

-

±1%

Load regulation

-

±5%

Turn-on delay time

-

3000ms

Hold up time

10ms

-

10ms-

-
| | | |
| --- | --- | --- |
| XSG050yyyyZZ | 5V, 300mA - 4A | 20W max |
| XSG060yyyyZZ | 6V, 300mA - 3.3A | 20W max |
| XSG090yyyyZZ | 9V, 300mA - 2.5A | 22.5W max |
| XSG100yyyyZZ | 10V, 300mA – 2.5A | 25W max |
| XSG120yyyyZZ | 12V, 300mA - 2.5A | 30W max |
| XSG150yyyyZZ | 15V, 300mA - 2A | 30W max |
| XSG160yyyyZZ | 16V, 300mA - 1.875A | 30W max |
| XSG180yyyyZZ | 18V, 300mA - 1.5A | 27W max |
| XSG190yyyyZZ | 19V, 300mA – 1.5A | 28.5W max |
| XSG200yyyyZZ | 20V, 300mA – 1.5A | 30W max |
| XSG240yyyyZZ | 24V, 300mA – 1.25A | 30W max |
| XSG290yyyyZZ | 29V,300mA – 1A | 30W max |
| XSG300yyyyZZ | 30V, 300mA – 1A | 30W max |
| XSG360yyyyZZ | 36V, 300mA – 830mA | 30W max |
| XSG480yyyyZZ | 48V, 300mA – 625mA | 30W max |
Popular Power adapters
5V4A power adapter XSG0504000; 9V 2A power adapter XSG0902000; 9V3A power adapter XSG0903000
12V 2A power adapter XSG1202000; 12V 2.5A power adapter XSG1202500; 15V 1.5A power adapter XSG1501500;
15V 2A power adapter XSG1502000; 18V 1.5A power adapter XSG1801500; 19V 1A power adapter XSG1901000
20V 1.5A power adapter XSG2001500; 24V 1A power adapter XSG2401000; 24V 1.25A power adapter XSG2401250;
48V 300mA power adapter XSG4800300; 48V 500mA power adapter XSG4800500
Drawings: L72.3* W47.1* H36.5mm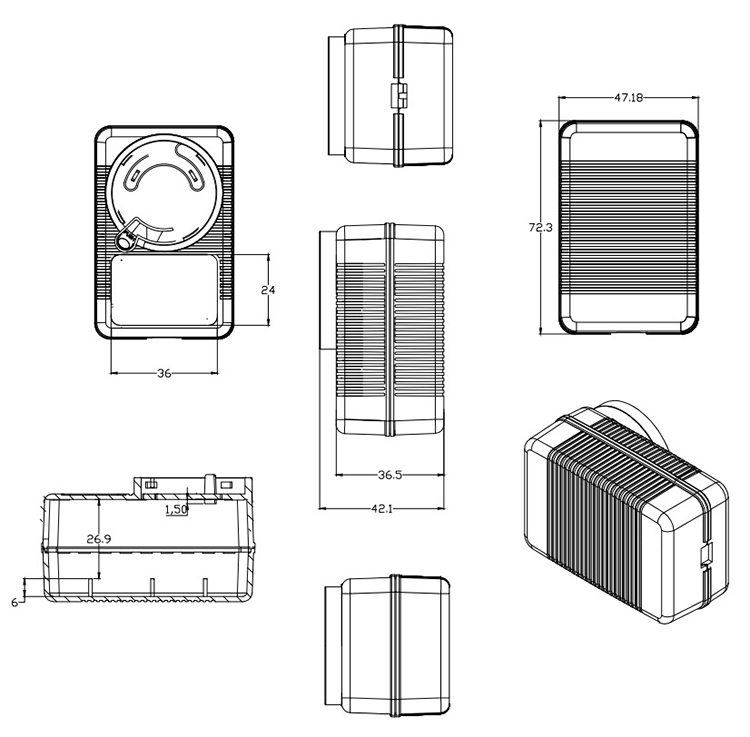 Packing: 
One switching power supply with one PE bag in one kraft box
75pcs/ctn
13.4kg/ctn
Carton dimensions: 49*30*34cm