D-tap lithium battery charger 16.8V 2A 3A 3.5A 4A for 14.8V studio camera/ lighting vmount battery.
Certificates: CB, UL, cUL, FCC, UKCA, KC, KCC, CE, GS, PSE, SAA,CCC
Model:XSG1683500, Output: 16.8V, Current: 3.5A, power 58.8W max 
Model:XSG1686000, Output: 16.8V, Current: 6A, power 100.8W max 
Battery type: 4s 14.8V lithium battery
DC output plug: D-tap with SR, Injection molding with wire
Protection: OCP, OVP, SCP, Polarity reverse protection(Optional), current reverse protection.
Wide AC voltage Input:
1. INPUT VOLTAGE RANGE:90Vac to 264Vac
2. RATED INPUT VOLTAGE:100Vac to 240Vac.
3. INPUT FREQUENCY RANGE:47Hz to 63Hz
LED indicator: LED turn red to Green when fully charge the battery. smart 3 stage charger.
Charging Status
Charging Stage
LED indicator
Charging
Constant Current
Constant Voltage
Charged Full
Trickle Charging
Charging Curve: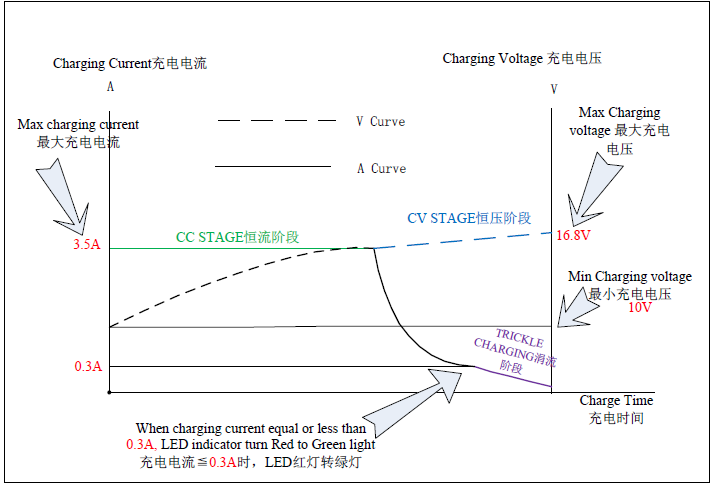 Popular Battery Chargers:
XSG1682000 16.8V 2A charger; XSG1683000 16.8V 3A charger
XSG1684000 16.8V 4A charger; XSG1686000 16.8V 6A charger
Xinsu Global 16.8V D-tap charger Advantages:
1.Full safety certifications: UL, cUL, PSE, CE, GS, SAA, KC, CCC, PSB, UKCA.etc
2.Sealed PC enclosure, fanless, more safer and quieter
3. High voltage accuracy, battery protection
4. Small MOQ required to help clients to test the market
5. Special D-tap wiring mold,Wiring is firmer
Drawings: L116* W52* H34mm